About Us
COMFY RINGS
INCREDIBLE SERVICE
UNBEATABLE PRICE
~~~~~~
---
WE DIDN'T ALWAYS SELL DIRECT TO OUR CUSTOMERS. WE SOLD ON OTHER SALES CHANNELS




~~~~~~
SO WHY SELL DIRECT NOW?
In 2015 - We started selling online to save fingers and precious metal rings everywhere!
In 2016 - Counterfeit sellers hijacked our listing and sold fakes!  So the IP war had begun...
In 2017 - To counter this e-surgence, we turn swagmat.com into a full scale ecommerce website and develop a strong social media presence.
---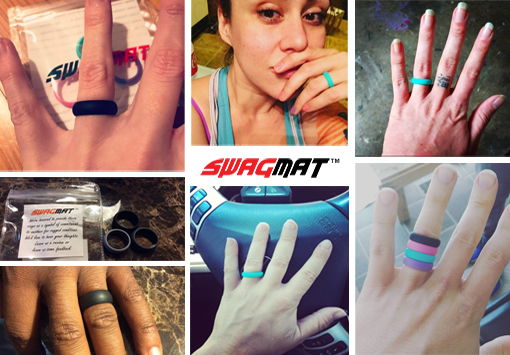 A Little About the People Behind the Rings
~~~~~~
We are a little micro-company. We are the little guys trying to provide a little product in a big, big world. No venture capital and only a handful of us. We registered our company in Hong Kong since we keep our prices so low it was necessary to cut costs as much as we could. But that's okay, Hong Kong means business. But why rings you ask? Well there is a story there.. the story of Uncle Mac and the missing gold ring. But we'll keep that for another day. So stay tuned! ;)
But we are not the only ones behind the rings. As you can see our loyal customers keep taking happy snaps. It's more about them than anything. So we try to provide the best rings, with the best service at the best price and in so doing, contributed to the ring for rugged conditions revolution!
---
So... Ready to Join the Action?         Three Ways to Get Involved:
~~~~~~


 
SHARE THE LOVE
join the movement and show the world!
SIGN UP
for the swagmat club!
SHOP
for yourself or a gift!
---